Posts Tagged 'Beatrice Powell'
草間 弥生 vs. 魏嵦毅
Yayoi Kusama (草間 弥生) is a very strange woman. Very very strange. She may be a genius, a demented quack, or just an orange-haired Japanese woman dressed in black with gold dots enveloped in a milieu of self-mimetic art. On the positive side, she refused to conform to Japanese cultural prescriptions on art. On the negative side, she influenced Andy Warhol. On the positive, she influenced Andy Warhol. On the negative, she's MC Escher in color sans devious geometric logic. On the positive side, well…I'm not really sure…I'm wont to obliquely taunt her admirers, as done previously regarding Paul Doran, Helen Frankenthaler, Tracey Emin, and  Clyfford Still. Their ilk produces schlock and lacks rigid attainment of perfection. Yet Kusama mesmerized and troubled. What to do about this woman, born in 1929, who diverged from Oriental traditions and influenced abstract and modern artists more associated with the West?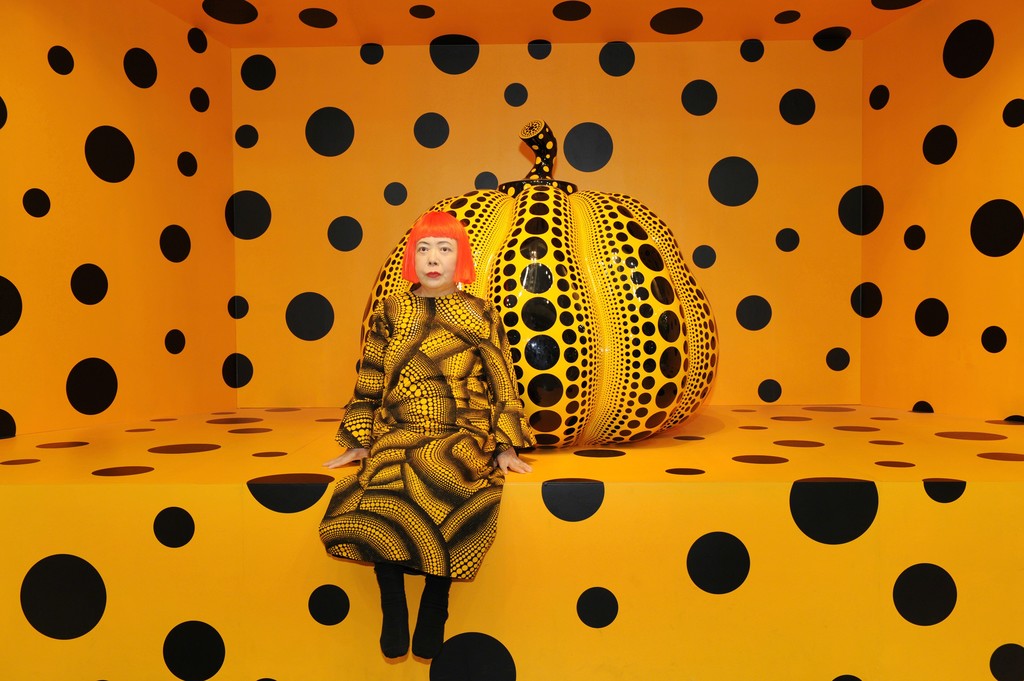 Beatrice Joan Wilson Powell (魏嵦毅 aka Cove Loon) born in New Jersey five years after Ms. Kusama, learned technique during the 50s at Cooper Union, but she did not find her groove until she graduated and lived in Asia for four years. She fell in love with calligraphy and water color.
A  match for Kusama? On the positve side, my mother not only paints competently but speaks, reads, and writes Chinese, which she incorporates into her work. On the negative side, as partly explained in her battle with Breugel the Elder, she lacks discipline and commitment to perfection.
Qi Lin Error:  Take notice on the Qi Lin above, second column from the right and the fifth character down. She attempted to write 北京 (Beijing), yet muffed her brush stroke of 北, and thus drew a line through the mistake.
Egregious or forgivable?  Well, for a human, I would say the latter. I make typos in self-indulgent blogs. But location and timing of presentation matters. Botched calligraphy does not complement a classical Chinese creature. Friends and family may not care, and I'm not sure my father (the main curator of the works of Beatrice Joan Wilson Powell) noticed, but it just ain't perfect. And that's a kick in the ol' sensorial gut.
Perfection aestetic? Ms. Kusama takes different risks, but a misplaced dot not only is undetectable, but any blemish or flaw can be said to be intentional. And that's my concern with abstract art, perfection is taken out of the aesthetic. Conceptual art often hides lack of talent. Who is the better artist? Kusama or Powell? When I started writing this I thought Powell would clobber Kusama, whom I lumped with other Pollock-o-whackophiles. Yet I dare say it's tough not to stare at the Kusamas. Therefore, I cannot give the nod to dear ol' mom, and thus call it a draw.
This post has four pictures, two of them are painted by Helen Frankenthaler, an abstract expressionist who achieved no small amount of attention. She passed away on December 27, 2011. And here are two self-explanatory examples of her art, which I'll call "Blue" & "Yellow." Pleasant, indeed, but worthy of greatness? The paintings above and below are the work of one of her unknown contempories, Beatrice Joan Wilson Powell, aka Cove Loon, aka Mom. Frankenthaler achieved fame and attention, yet comes from a period that I simply do not get. She counts artists such as Jackson Pollock among her influences. This is problematic, Pollock is not great. Certainly, he is among the many of her contemporaries that have changed & influenced art, but I would argue that they have not advanced art. They've lowered the aesthetic bar, added elements that take away from pursuits of beauty and meaning and replaced them with simplicity. Often I think the art world has gone nuts, and rewarded people not on skill or talent or aesthetic but on random chance and marketing.
 Pollock, Willem de Kooning, Paul Doran, Arshile Gorky, Damien Hirst, Lee Krasner, Dale Malner, Robert Motherwell, Barnett Newman, Robert Rauschenberg, Mark Rothko, Clyfford Still, Andy Warhol, et al somehow managed to replicate pop culture or fill a niche or fund bizarre projects as they spread globs of paint on canvas or as they manufactured junk into a visual display; their art is craft or promotion. Am I an unsophisticated lout who has no appreciation of art? That usually is a defense artistes wage against detractors, fair enough, but I have grown up amidst art, am familiar with the art historians, and think that for an artist to be great, one of the criteria is that they must have talent.
As far as Frankenthaler's art, intuitively and with a further and deeper glance, I do not see why her paintings have value. Her art does not interest me, I pass it by and look for something else.
This brings me to my mother, and do not think I imply that she should be famous. Her talent is worthy of greatness, but her output, ambition, drive, complacency et al have hindered her overall body of work. She is exactly where she should be in the art world, someone who is appreciated by family and friends. Nevertheless, take a look at the art within this post. What would you rather have on your wall?
The Copenhagen Review, edited by Faulkner Faculty poet Gordon Walmsley, has published a watercolor by my mother, Beatrice Joan Wilson Powell, in their Fourth Issue.
My mother studied Fine Art at Cooper Union in New York City, and has painted oil and watercolor all her life.  She started visiting Copenhagen during the four years her daughter, my sister, lived off Fredericksburg Alle, and painted many scenes of Copenhagen. Here is another – Havfruen, Nyhavn 2005: