Archive for the 'Clyfford Still' Category
草間 弥生 vs. 魏嵦毅
Yayoi Kusama (草間 弥生) is a very strange woman. Very very strange. She may be a genius, a demented quack, or just an orange-haired Japanese woman dressed in black with gold dots enveloped in a milieu of self-mimetic art. On the positive side, she refused to conform to Japanese cultural prescriptions on art. On the negative side, she influenced Andy Warhol. On the positive, she influenced Andy Warhol. On the negative, she's MC Escher in color sans devious geometric logic. On the positive side, well…I'm not really sure…I'm wont to obliquely taunt her admirers, as done previously regarding Paul Doran, Helen Frankenthaler, Tracey Emin, and  Clyfford Still. Their ilk produces schlock and lacks rigid attainment of perfection. Yet Kusama mesmerized and troubled. What to do about this woman, born in 1929, who diverged from Oriental traditions and influenced abstract and modern artists more associated with the West?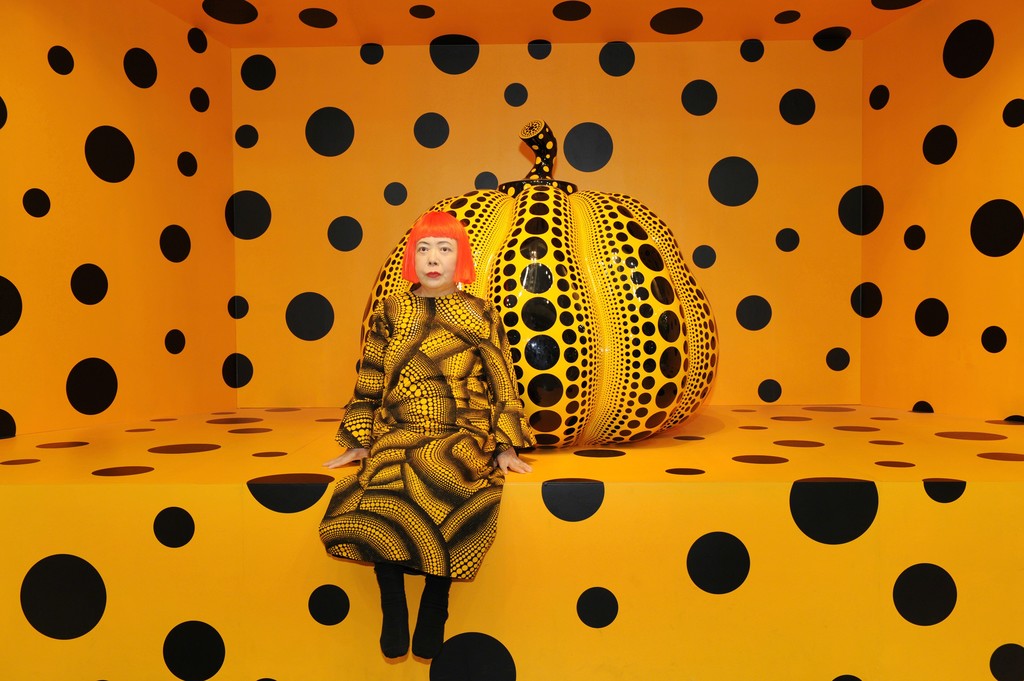 Beatrice Joan Wilson Powell (魏嵦毅 aka Cove Loon) born in New Jersey five years after Ms. Kusama, learned technique during the 50s at Cooper Union, but she did not find her groove until she graduated and lived in Asia for four years. She fell in love with calligraphy and water color.
A  match for Kusama? On the positve side, my mother not only paints competently but speaks, reads, and writes Chinese, which she incorporates into her work. On the negative side, as partly explained in her battle with Breugel the Elder, she lacks discipline and commitment to perfection.
Qi Lin Error:  Take notice on the Qi Lin above, second column from the right and the fifth character down. She attempted to write 北京 (Beijing), yet muffed her brush stroke of 北, and thus drew a line through the mistake.
Egregious or forgivable?  Well, for a human, I would say the latter. I make typos in self-indulgent blogs. But location and timing of presentation matters. Botched calligraphy does not complement a classical Chinese creature. Friends and family may not care, and I'm not sure my father (the main curator of the works of Beatrice Joan Wilson Powell) noticed, but it just ain't perfect. And that's a kick in the ol' sensorial gut.
Perfection aestetic? Ms. Kusama takes different risks, but a misplaced dot not only is undetectable, but any blemish or flaw can be said to be intentional. And that's my concern with abstract art, perfection is taken out of the aesthetic. Conceptual art often hides lack of talent. Who is the better artist? Kusama or Powell? When I started writing this I thought Powell would clobber Kusama, whom I lumped with other Pollock-o-whackophiles. Yet I dare say it's tough not to stare at the Kusamas. Therefore, I cannot give the nod to dear ol' mom, and thus call it a draw.
Brief Bio Part II – More Boring Stuff: (From Brief Bio I) While in New York my father, in the Navy Reserves, was called to active duty and sent to Taiwan and then Saigon. My mother, at the time, was a grad student at Columbia and writing her dissertation with perhaps six months of work to attain her Ph.D. She chose to postpone her degree and join my father in a decision that can be seen as a metaphor for much of her work. She never finished her dissertation.  My mother stayed in Taiwan, where she taught Mandarin at the Taipei International School.
Competition: But how does having an "EBD" (Everything but dissertation) become a metaphor? Because my mother lacks the gene that drives successful artists to create until completion. In previous posts my mother has taken on Paul Doran, Helen Frankenthaler, and Clyfford Still, and her technique has handily defeated them. However, beating those three replicates an adult winning a tennis tournament against 8-year-olds. To paint better than Pollock or Rothko or Motherwell eludes the point. Their whole shtick depends on the shock value of not aspiring to the heights of technique. When it comes to abstract expressionism and similar disciplines, mental energy focuses on conceptual ambiguities that escape the interest of many, and thus comparing Beatrice Powell to them is, as I like to hammer redundantly and self-indulgently, comparing Apples to Orangutans. (Apples and orange are both round sweet fruit, they are similar, so why not compare apes to apes and fruit to fruit and find a new cliché?) I do not respond to Pollock & company, but I realize that many people do, thus the exorbitant pricetags of their work. And this pisses me off.
Anyway, I diverge and die…gress. I'm trying to pay homage to the greatest painters. How would my mother fair against, say, Pieter Bruegel the Elder?
Bruegel suffered to paint. His life was his art, it was not a hobby, a part time whim or fancy; art consumed him 100% of the time. He kept painting, seeking an illusive redemption. There is no romanticizing or exaggeration, in the 45 years or so that he lived, and by the less than 50 canvasses that remain of his work from the 16th Century, he became, without hyperbole, a master.
My mother, ah, my mother. Look at her two paintings sandwiched between the Bruegels. The "Half-Castle" illustrates her unfinished "finished" painting. "Caricatures" is a hoot, but the white spaces remain. These watercolors show how she often loses the fire and hunger mid-painting.  My mother has not suffered to paint. She is happy. This can lead to complacency and, dare I say, laziness. She has had moments of dedication and hunger and study, especially in her youth, but as with her Ph.D., art was never that important too her. She chose family and happiness, and I love her for that. Who could blame her? I admire her talent, and yet, the artist in me wonders where she would be if she had been consumed more by art.