Archive for the '魏嵦毅' Category
草間 弥生 vs. 魏嵦毅
Yayoi Kusama (草間 弥生) is a very strange woman. Very very strange. She may be a genius, a demented quack, or just an orange-haired Japanese woman dressed in black with gold dots enveloped in a milieu of self-mimetic art. On the positive side, she refused to conform to Japanese cultural prescriptions on art. On the negative side, she influenced Andy Warhol. On the positive, she influenced Andy Warhol. On the negative, she's MC Escher in color sans devious geometric logic. On the positive side, well…I'm not really sure…I'm wont to obliquely taunt her admirers, as done previously regarding Paul Doran, Helen Frankenthaler, Tracey Emin, and  Clyfford Still. Their ilk produces schlock and lacks rigid attainment of perfection. Yet Kusama mesmerized and troubled. What to do about this woman, born in 1929, who diverged from Oriental traditions and influenced abstract and modern artists more associated with the West?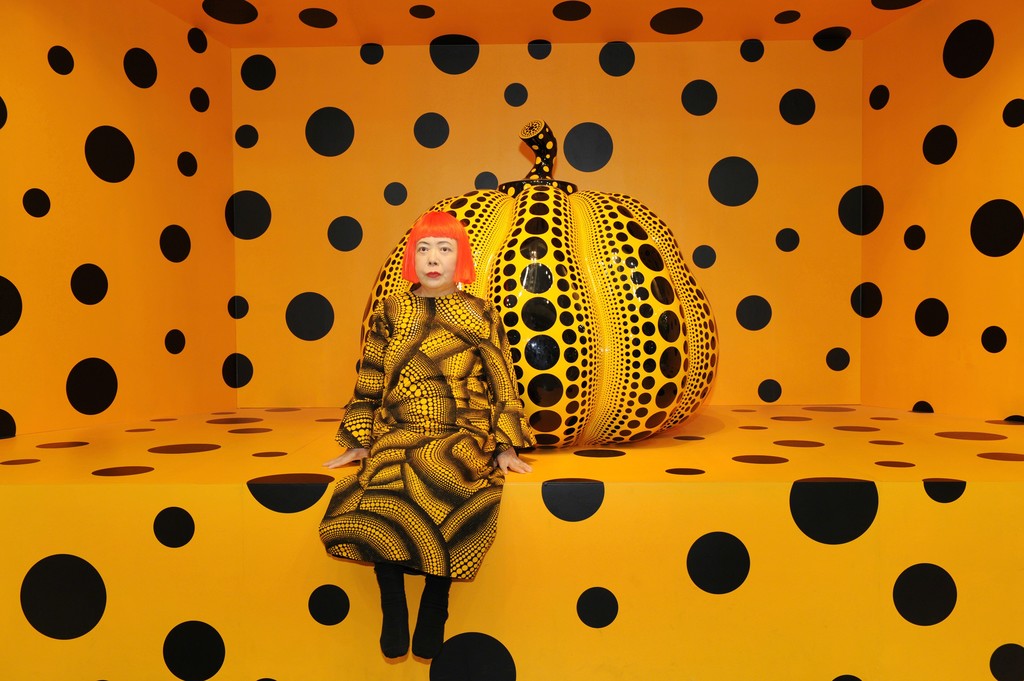 Beatrice Joan Wilson Powell (魏嵦毅 aka Cove Loon) born in New Jersey five years after Ms. Kusama, learned technique during the 50s at Cooper Union, but she did not find her groove until she graduated and lived in Asia for four years. She fell in love with calligraphy and water color.
A  match for Kusama? On the positve side, my mother not only paints competently but speaks, reads, and writes Chinese, which she incorporates into her work. On the negative side, as partly explained in her battle with Breugel the Elder, she lacks discipline and commitment to perfection.
Qi Lin Error:  Take notice on the Qi Lin above, second column from the right and the fifth character down. She attempted to write 北京 (Beijing), yet muffed her brush stroke of 北, and thus drew a line through the mistake.
Egregious or forgivable?  Well, for a human, I would say the latter. I make typos in self-indulgent blogs. But location and timing of presentation matters. Botched calligraphy does not complement a classical Chinese creature. Friends and family may not care, and I'm not sure my father (the main curator of the works of Beatrice Joan Wilson Powell) noticed, but it just ain't perfect. And that's a kick in the ol' sensorial gut.
Perfection aestetic? Ms. Kusama takes different risks, but a misplaced dot not only is undetectable, but any blemish or flaw can be said to be intentional. And that's my concern with abstract art, perfection is taken out of the aesthetic. Conceptual art often hides lack of talent. Who is the better artist? Kusama or Powell? When I started writing this I thought Powell would clobber Kusama, whom I lumped with other Pollock-o-whackophiles. Yet I dare say it's tough not to stare at the Kusamas. Therefore, I cannot give the nod to dear ol' mom, and thus call it a draw.