War Is Beautiful: New York Times war photography leads "directly to immeasurable death and destruction"

"Forty years ago, Susan Sontag, in an essay for the New York Review of Books, wrote,
"To photograph people is to violate them… Just as a camera is a sublimation of a gun, to photograph someone is a sublimated murder."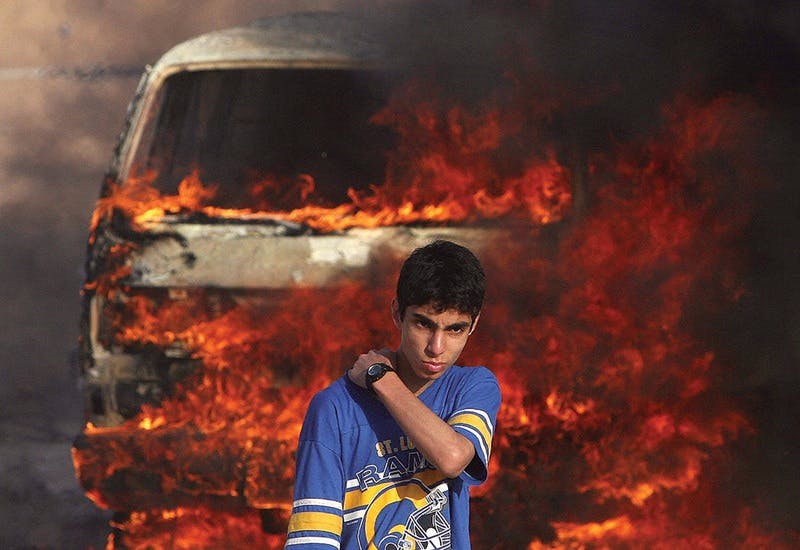 This backed her argument that photography was "essentially an act of non-intervention" that shared "complicity" in "another person's pain or misfortune".
Susan Sontag noted that Nick Ut's (Huỳnh Công Út) photo of Kim Phuc, a naked South Vietnamese girl with arms spread, wracked in pain from napalm,
'Did more to increase the public revulsion against
the war than a hundred hours of televised barbarities'
These essays formed On Photography, such nuance earned it the National Book Critics Circle Award in 1977, and it became one of the most important works of literary criticism on photography in the 20th century. The latest addition to this, in a book Noam Chomsky calls "Shattering," is David Shields' War Is Beautiful: The New York Times Pictorial Guide to the Glamour of Armed Conflict. To provoke, Shields provides 64 photos taken from The New York Times, 1997-2014, with a brief essay on how Shields dissected thousands of images from front pages. Shields writes:
"Over time I realized these photos glorified war through an unrelenting parade of beautiful images whose function is to sanctify the accompanying descriptions of battle, death, destruction, and displacement."

His conclusion:
"I found my original take corroborated: the governing ethos was unmistakably one that glamorized war and the sacrifices made in the service of war."
Shields' epiphanies lead him to accuse Judith Miller and the Times of,
"—intimate participation in the promotion of the war (that) led directly to immeasurable Iraqi death and destruction".
Therefore he will,
"No longer read the New York Times".
Does Shields think substantive benefits would come from such a proclamation?
I don't.
Shields and I have combated ideas for years…continue"